act

!

CRM Software Training
Bring act

!

CRM to a new level.  We offer Power User Classes and Advanced Customization Training.  Public Training Classes, Onsite Office Training and Online!.
act

!

Software Training is the Next Step in Your CRM Strategy
Our team is act! Premier Trainer certified and has over 12 years of experience with all act! versions. We have helped organizations just like yours take the next big step towards true CRM success. We can help you and ensure that you know the basics of act! as well as the more advanced features of the program. Our training will save you time and can make your workplace more effective without overwhelming your team.
Approach to on site act

!

training
Our approach to act! training includes one-on-one time with each end user. This ensures that each member of your team really understands their role in making act! and your CRM strategy work flawlessly. We work with real-life examples from your business, so that your ! training is pertinent to your day-to-day workflow. We supply useful act! Quick Reference Sheets with every training session and can also provide instruction manuals or books, if desired.
Online act

!

Training Classes
Our innovative online interactive training sessions are offered with web and tele-conference technology. Each member of your team has a desktop view and control of the mouse so that they can practice new concepts as they are taught. Our interactive online training sessions are immensely popular because they offer economically feasible training from our highly qualified experts in your organization's own environment. We also realize that no one uses act! in a vacuum. That is why we take great pains to ensure with the online training each end user learns act! from their own desk, where they will actually harness the features of this software. In our experience, keeping end users at their computers enhances retention and increases the comfort level of each trainee.
Training Class Options
We can provide act! training in a variety of environments. Whether your team is small or large, we can ensure that everyone gets the training they need to really understand the nuances and the practical applications of act! For larger conventions, annual meetings, and sales meetings, we offer on-site act! training which ranges from a few hours to half a day. Whether you want to make act! training a part of group training or the focus of a larger meeting, we can help. Just let us know when everyone will be meeting and where, and we can plan a training session.
Already an Experienced User?
Even if you have been using act! for quite some time, additional training ensures that everyone on your team is familiar with all the features of the program. Even very experienced act! users will not always be aware of the latest additions to the software – subtle things that could impact the return on investment you enjoy on your software. From renewing excitement about act! to reinforcing basics to helping your team members grasp all the subtle ways that act! can help your business, our training can help ensure that you squeeze every possible advantage from act! If you want to know more or if you are ready to book your act! training, complete the form on the right to get more information.
act

!

 Power User Public Training Course
Who should take this course? Anyone who wants act! to be more than just an expensive rolodex. It's a course for beginners and longtime users. We go through the basic feature sets of act! Then we show you how to use the program for productivity and efficiency to automate your processes and increase your sales. We go through combining features in act! so you can operate act! the way you do business.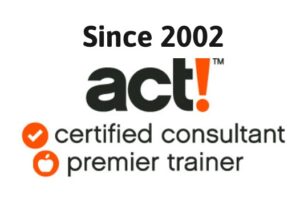 Sign Up for act

!

Software Training Information Here
We'll let you know when we are having our next class.