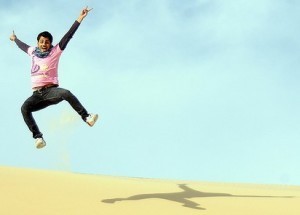 How do you jump start your marketing? Well, there is no 30 second shiny object that makes it happen. It's really all about the three most important strategies you need to get new customers now and retain them.
In person works every time:
It's essential you meet with customers/clients in person whenever possible. This shows you respect them and take the time to work with your clients to give personal attention to each of them.
Yes, follow-up snail mail letters work better than an email:
Always take a moment to send a follow up letter about what you talked about, new agreements or partnerships made and to thank them for taking the time to meet with you. Likewise, you should always send thank you letters or small gifts to partners you find success with.
Personal phone calls:
Use a telephone call to follow-up and talk again about the matters you discussed in your meeting and offer any assistance you can to help their business run smoothly and more successfully.
Of course you need a quality product or service to back you up!
Ok so now let's go over the key steps for putting together your jump start marketing strategies:
Research using the demographics of the customers who have purchased from you. Also include potential customers, buyers, competitors and how they liked to be communicated too. Example: If senior citizens are you your potential customer than a local newspaper advertisement and/or letter works. If a 30 year old professional is your targeted customer then it's social media, webinars and direct mail.Talk to your customers.
Find out what pain points draw your customers to buy your product or service and use those pain points to reach new leads.
Follow up with your 3-step process above.
Develop a system that your potential customer will follow step by step and include quality control standards and customer service.
After the sale have a post-sale follow-up system to keep in touch with your customers through open lines of communication by email, mail and phone.
You want to focus on building up your new or current relationship which will result in increasing future purchases.
Peter Drucker who wrote a number of business books said: "Marketing and innovation produce results; all the rest are costs"
Here's one of my favorites:
"If there is any one secret of success, it lies in the ability to get the other person's point of view and see things from that person's angle as well as from your own." Henry Ford, Founder of Ford Motor Company
I have outlined for you the strategies to put together a start-up marketing plan that can be used over and over again to help your customer base and business grow in a manageable way. If you need more assistance or have a question please contact us.