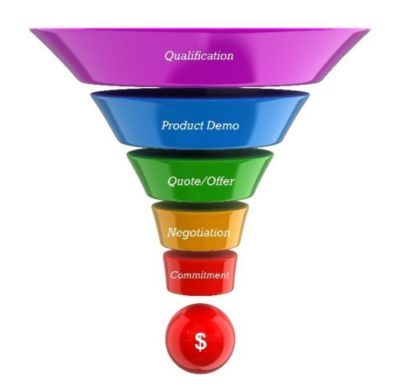 Recently I was called in to meet with the business owner of a manufacturing company interested in using a new CRM system. He had been using a CRM software system but felt it didn't give him enough information on what each sales person was doing daily and weekly.
I asked what is your sales process/funnel? I was not surprised when he told me it's up to them to close the deals and we don't feel a sales funnel matters.

Working with other B2B companies that do not have a sales funnel I knew there was another common problem I found very often. I asked if production had problems after a sales person closes a deal because they don't have production time scheduled and parts/materials in stock to produce the product for delivery. Sure enough production wasn't aware in advance of new potential sales and deliveries were late on special orders.

These are just couple of the key issues that a Sales Funnel can solve. If we start with a basic sales funnel of 5 levels to winning or losing a sale then management has the knowledge to help close the sale and forecast ahead what is needed in the next 1-6 months for production.
Typical Sales Stage Funnel:
1. Qualification – sales has spoken with the lead and determined that it can provide product they need.
2. Product Demo and/or lead has submitted technical requirements for the product.
3. Quote/Offer – Working with manufacturing and inside technical team a quote is prepared and sent.
4. Follow-up and negotiation of quote. Prospect turns down offer go to Close Loss.
5. Commitment – Prospect commits to take the offer.
6. Closed Won
7. Closed Loss
Optional:
Fulfillment/Delivery
Follow-up of delivery and satisfaction
Repeat sale – ask for another order.
Here is where management should to be involved in a Sales Funnel.

At stage 3 management is involved in quoting by reviewing requirements for the sale. At that time they should be looking at their manufacturing schedule and forecasting the time required to fulfill a possible new sale. They should also take into consideration based on the quote what other assets are needed such as parts, finished goods and delivery scheduling.
Now sales can add to the quote a commitment that if the prospect agrees by a certain date a delivery can be completed on time.
At stage 4 the sales team should be communicating with management on any questions, problems or possible delays by the prospect in accepting the quote. Management should be involved to help sales with better pricing or added value to the offer to close the deal. All along management and production are in communication planning, forecasting and rescheduling for the potential production job if necessary so they are ready.
At stage 5 if the prospect accepts the offer then management is prepared to start production and deliver on time.
Sales, management and production are now working together as a team. Everyone is aware of the deals in the sales funnel. Management and production are always up to date on what sales is projecting and any challenges to closing a deal.

A Sales Funnel with the right stages in the sales process to track winning more deals will grow your business. This is a Win…Win for sales, management, production and most important the pocket of the owner!
In upcoming articles, we'll help you understand more about a CRM, see if it's right for you, and show you what to look for in one. You'll also learn what to expect and plan for if you decide to implement a CRM.
If you would like to receive more articles about automating your business, just sign up for our newsletter.
Joseph Norcott
Business Sales and Marketing Automation Strategist