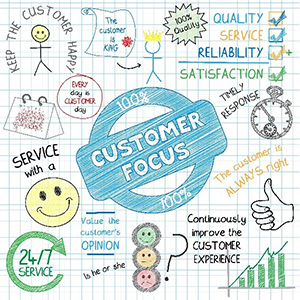 How many times as a business owner have you been surprised not to hear about a customer that has a complaint or problem with your product or service until its too late?
Is someone handling it in your company? You hope so! If not you just lost a new customer or an existing customer.
How about new customers automatically getting a follow up request by email or phone from the Customer Service Representative (CSR)? Reaching out to assist the customer or check on the customer satisfaction of your product or service can help you increase sales.
Customer service is a valuable tool in growing your business.
They are the people that can make customers happy with you and buy more. They are your number one resource for retaining customers.
That's where a CRM (Customer Relationship Management) tool can make the difference.
After the sale you should have an automated workflow in your CRM that assigns a call or email to the new customer as a follow up to the sale. Once the CSR connects with the new customer have a script in the system to ask how satisfied they were with delivery, installation or activation of the product. The customer's response is recorded in the customer record for management and sales to review. If there is problem the sales representative can be notified to follow up right away. Better yet the sales representative is notified to go back and ask for a repeat sale from a happy customer.
As for answering customer questions, include a knowledge base in the CRM to quickly answer common questions from a customer. Provide a link in the CRM for the CSR to send the customer how to resolve the problem or answer the question with further instructions. This will save time for the CSR from repeating instructions and the customer has a better experience with your product.
Management can review a report generated in the CRM about the common issues.
If it is product quality related then management can flag it and review how to improve the product. If it's a matter of updating the help instructions included with the product then the customer experience will be more positive when they start to use it.
The CSR can get the sales team involved only when needed. However, they can see in the system the history of activity between the sales person and the customer leading up to closing a sale. Based on that information they are quickly informed on the sale and expectations of the customer.
The sales team will have more time to do what they do best and sell more instead of handling customer service requests. However, the sales team is always aware of customer issues because they are recorded in the customer's record for all to see.
Just think wouldn't it be great to have a sales person on a return visit to a customer not get their head chewed off because they didn't know about a problem. Instead they get a repeat sale because the happy customer is satisfied with the knowledge and fast response from the CSR team!
The other key to using a CRM is they can ask for a testimonial and record it on the contact's record for marketing to use in promoting happy customers using your product or service!
A CRM used together by the sales and customer service teams can increase more sales and profits in your business.
If you would like to receive more articles about automating your business just sign up for our newsletter Bigger Slice of Business at: www.btne.com/bsobnewsletter
In upcoming articles, we'll help you understand more about a CRM, see if it's right for you, and know what to look for in one. You'll also learn what to expect and plan for if you decide to implement a CRM.