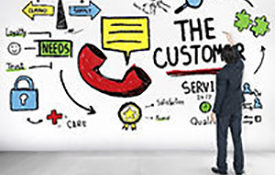 Desktop email and calendar products like Microsoft Outlook™️ were originally created as a standalone product. Many businesses need a product that is built for sales, marketing and customer support teams. This where a CRM product meets those requirements.
In a corporate environment, single user designed applications lack the ability for a sales team to know what is going on with a lead or client. Management doesn't know what the sales people are doing at any time. They must rely on each sales representative to spend time generating weekly and monthly sales reports instead of spending that time generating sales.
The marketing team doesn't communicate back and forth effectively with sales. You also lack the communication between sales and customer service as well.
When management embraces a process that includes a CRM to expand their business they will find growth is quicker, easier to forecast and track.
A CRM system setup properly based on your marketing, sales and customer service processes can help generate increase sales conversions. Along with training all involved in the processes to be used, you will see a return in investment quickly.
Here are some benefits of a CRM that can help build a better relationship with your existing customers and convert new prospects:
• Being able to review past history of sales conversions to timely track closing new opportunities.
• More efficient understanding of specific customer needs by identifying them quickly.
• Upselling and cross-selling of related products to customers which increases profits.
• Tracking the profitable customers and targeting more of those prospects.
• Identifying and reactivating lost customers you can sell to again.
• Coordinating with marketing to get referrals (warm leads) from your satisfied customers.
• Staying in-touch with your customers on a timely and consistent schedule to increase repeat sales.
• Following up with new customers to provide customer service and retain them.
A CRM used to follow existing customer behaviors will assist a company to identify and find new customers as well as discovering potential new markets. Knowing more about your customers leads to increased sales, profits and a bigger customer base to expand your business.
To learn more about finding and how to use the right CRM system in your business join our newsletter Bigger Slice of Business.